Some may argue that we live in the middle of nowhere!
We believe that we live in the middle of it all.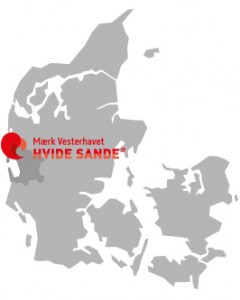 The area offers great outdoor opportunities:
– To the west, we have only 5 km to the seaside resort area Søndervig that includes miles of sandy beaches.
– Only 4 km to the east we have the old market town Ringkøbing.
– To the south and north are two fjords: Ringkøbing Fjord and Stadil Fjord.
Here you will find child-friendly beaches and great possibilities for both wind surfing and kite surfing.
Only 2 km from harbogaarde Bed and breakfast is a hotspot for kite-surfing and Hvide sande ( 20 km away) is a center for both kite- and wind surfing. Westwind
If you are interested in birds, we have big bird conservation areas in West Stadil Fjord and Tipperne at the southern end of Ringkøbing Fjord.
Naturstyrelsen ; Ud i naturen ; DOF vestjylland
If you are interested in fishing there are good opportunities in both streams and lakes. Skjern Å (river) (30 km) is famous for its salmon and the Skjern Å valley. The more local rivers are also excellent for fishing, and of course there are many fisheries in the area.
Just outside our house you can follow the bike path that leads both around the fjords and connects to the North Sea Route. If you don't bring bikes, they can be rented at Hvide Sande Bike. Hvide Sande Bike
We have two 18-hole golf courses in the area, Holmsland Klit Golf (4 km) and Dejbjerg Golf (20 km) Holmsland Klit Golf : Dejbjerg Golf
If you are interested in gardens we have several different options. Within 10 km we have Forundringens Have, Hostahaven Enemærket and Laubjergs Rosenhave.
Forundringens Have, Enemærkets Hostahave ; Laurbjergs Rosenhave
About 25 km north you will find Fru Pedersens Have and Flamingo Park.
Fru Pedersens have, Flamingo Naturpark
The history of town and nature.
The museum: Ringkøbing Skjern Museum arrange a lot of events about the area.  Levende historie
Towns
The beautiful old town Ringkøbing is worth a visit. Take a walk in the old streets and enjoy the old houses and buildings..
There are excellent shopping possibilities.
Søndervig is an exciting seaside resort with shops, bowling, a water entertainment park and a sand sculpture festival. There is access to the North Sea's famous sandy beaches.
Hvide Sande, an old fishing town, is also worth a visit. Take a walk on the harbor and see the fishing boats landing their catch. There are good opportunities to fish from the piers.
You can buy fresh and smoked fish in the town or learn more about fishing at "Fiskeriets Hus"
Fiskeriets Hus
Other activities:
The eventcalendar of our Turistinformationcenter.
Hvide Sande or Exploring
Interested in horseriding:
Nymindegab Ridecenter;  Hestevognskørsel ; Vedersø Ridecenter